Memories For Surviving Kids is partnering with funeral coordinators to facilitate requesting MFSK letters at the funeral service.  If you're intersted in letters for your kids, ask the funeral services provider if they have our MFSK Funeral Service Offering kits (shown here).  We will be happy to provide them for them if they haven't partnered with us yet.  
If you like, the funeral home will set up a brochure holder like this by the service's guestbook. This will show your interest in having funeral attendees consider writing letters for the children. You can review the brochures by clicking here,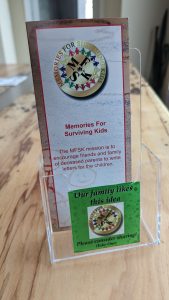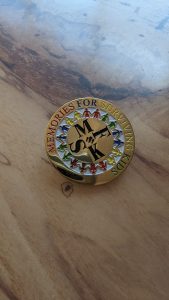 When available, you'll also get an MFSK lapel pin to wear as an ice breaker to start conversations about MFSK. We encourage you to wear it at the services and in the future when spending time with extended family.
Funeral Homes interersted in providing our MFSK Funeral Outreach brochures and lapel pins can learn more about how to do so here.