If time has passed, and you decide at a later time that the children would enjoy other's memories, there are many ways to request letters such as ...
...Send an email similar to this (feel free to cut and paste)
Dear Friends & Family
The children and I have discovered tremendous value in sharing our memories and stories about _______________. I would like some help in enhancing the children's awareness by adding stories from other people who knew _____________. I would really appreciate it if you would share some of your memories, in letter form, for the children. If you'd like some tips on how and what to write, you can visit the website at http://www.mfsk.org. Please address your letters to me, and send them through the mail so the kids can keep them in their scrapbooks.

We're all so thankful of the support you've given us already.
...And then there's one of my favorite ways to let people know, just come right out and ask. Most people struggle to find a way to help those recovering from grief. They will be thankful that you mentioned it.
...We now have Letter Request Kits available.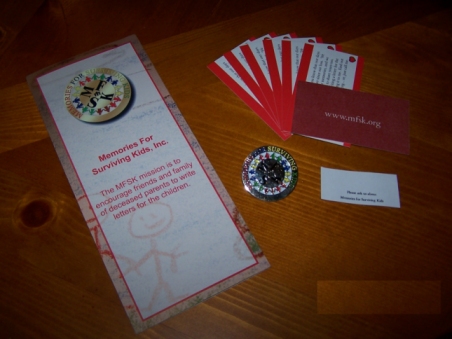 These kits include an MFSK lapel pin, a brochure, some small cards to slip in your mailings that mention the family would enjoy it if those in receipt of the card were to write, and a small sticker to place on a photo matting that reads "Ask us about Memories for Surviving Kids". These kits are free, and are made available through the generosity of our donors. To request a kit, please send us an email with your name and address. We ask that you consider making a modest donation so we can continue to provide this gift to others.